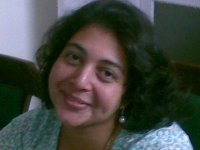 Hi! I'm Vinita Zutshi.
In the decades that I have 'parented' children (sometimes while technically being a child myself), I have seen both pain and misery in parent-child relationships.
What makes it sad is that this suffering is unnecessary.
I am so convinced that it is possible for parents and children to be happy together despite the challenges posed by daily life, that I decided to start a blog to share my thoughts. Carefree Parenting was born. That makes it (officially) baby no. 2 for me. 🙂
Carefree Parenting celebrates parenthood. It is about how being a parent can be a fulfilling, joyful experience for you as a parent and for the child(ren) you are parenting.
At Carefree Parenting, you will find:
How to communicate with your children, whatever their ages
How to raise your child according to the values you hold dear
How to be a parent and still have a life of your own
How to help your child become a worthwhile adult
How to tackle and resolve the problems of parenting today's children
How to overcome the stresses and strains of daily life to enjoy a loving relationship with your children as they grow to adulthood – and beyond that as well.
Anecdotes about children, parents, and other interesting animals (Just kidding about the last one!)
To me, parenting is about helping children become worthwhile adults. And I know that being a parent is at least 95% pleasure.
For those of you who agree with me, welcome. For those of you who don't, you might find it interesting to look through my lens…
My name is Vinita Zutshi, and I'm the creator and writer of Carefree Parenting. I'm a parent, writer, editor, storyteller and lots more – much of which I'm discovering as I go along. Come share my journey – and let me share yours! 🙂